Having been a fully remote, asynchronous company for nearly a decade at this point, we've discovered one thing about working from home.
Being happy with your space is a critical component of enjoying your work and being productive.
A few of our teammates have (graciously) agreed to share a glimpse into their home workspaces, including the gear and elements of the space itself they love.
(Sarah) Hawk, COO
Favorite piece of gear
I'm old school. I don't use headphones or a mic or a fancy monitor stand or anything else that people reckon they can't live without. The only thing I care about is my mug.

What you love about your space
What I love most about the space is the view of the trees out the window. It tricks my mind into thinking I'm outside.
Martin Brennan, Software Engineer
Favorite piece of gear
I'd have to say the Steelcase Gesture, though my favorite non-work-related gear item is the typewriter my wife bought me for my birthday.
What you love about your space
That it's not perfect, but it's mine. I love that I have a dedicated space to work and write to myself, I feel very lucky to have that, and over time I'm adding more things that make me happy to the space.
Kris Kotlarek, Software Engineer
Favorite piece of gear
Yeelight yltd001/yltd003 LED Screen Light Bar
When I was buying the monitor lamp, I was thinking that it is just a gimmick. However, now I love it. I am working from the corner of my living room, and that light is giving me nice separation between my working and living area.

What you love about your space
I will be honest, and I am not that good at keeping my desk tidy. However, I noticed, that if I can keep it clean, it is a bit easier for me to focus and I feel better in that area. Therefore, I am trying to have a habit to keep my workspace clean. I like a small notebook and pen which help keep my space uncluttered. Also, Orbitkey mat allows me to hide my notebook when the day is over. That mat has a magnetic cable organizer which I am using to stick my pen.
Blake Erickson, Software Engineer
Favorite piece of gear
My favorite piece of gear are my Shure SE215 Pro headphones paired with the triple flange tips. These block out noise better than any over-the-ear noise-canceling headphones for a true isolation experience allowing me to get lost in my work.
SE215 Pro - Professional Sound Isolating™ Earphones
SE215 Professional Sound Isolating™ Earphones provide clear sound and deep bass through a single high-definition driver in a durable, discrete design with detachable 3.5 mm (1/8") audio cable.

Professional Sound Isolating™ Earphones
Shure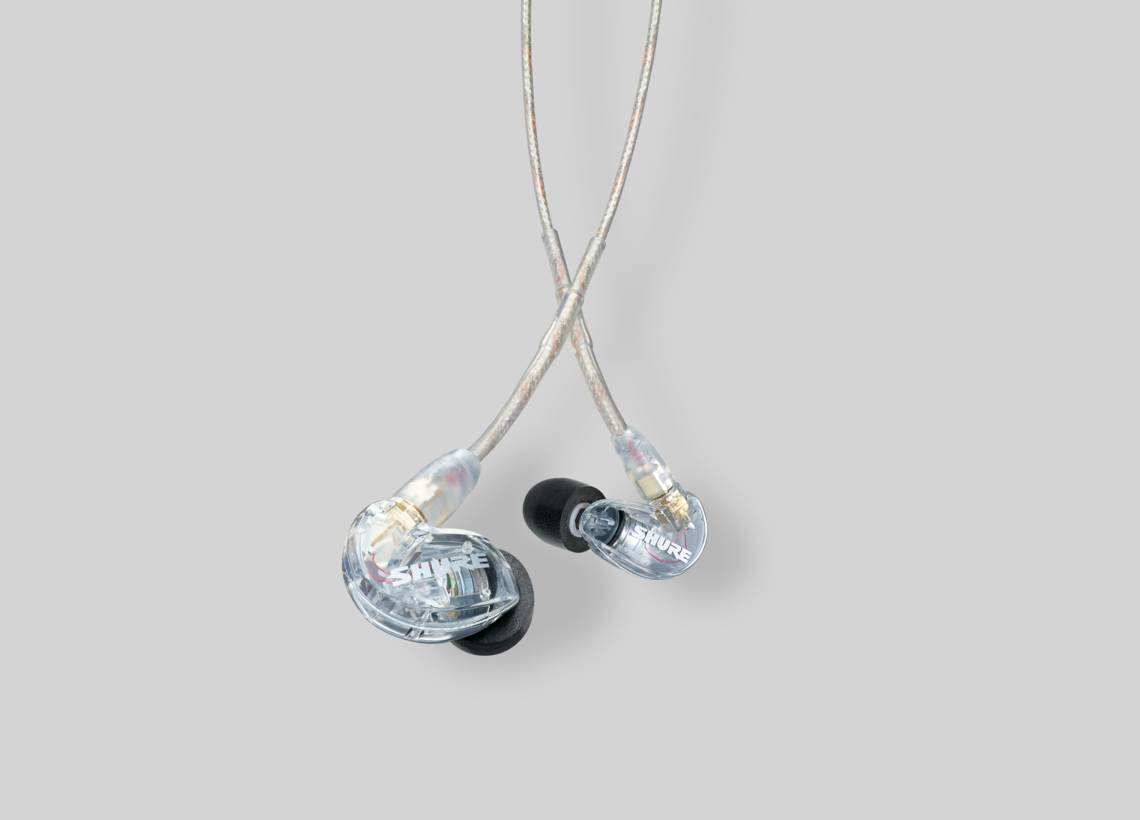 EATFL1-6 - Triple Flange Sleeves
Triple-flange sleeves replace sleeves for Shure Sound Isolating™ Earphones.

Triple Flange Sleeves
Shure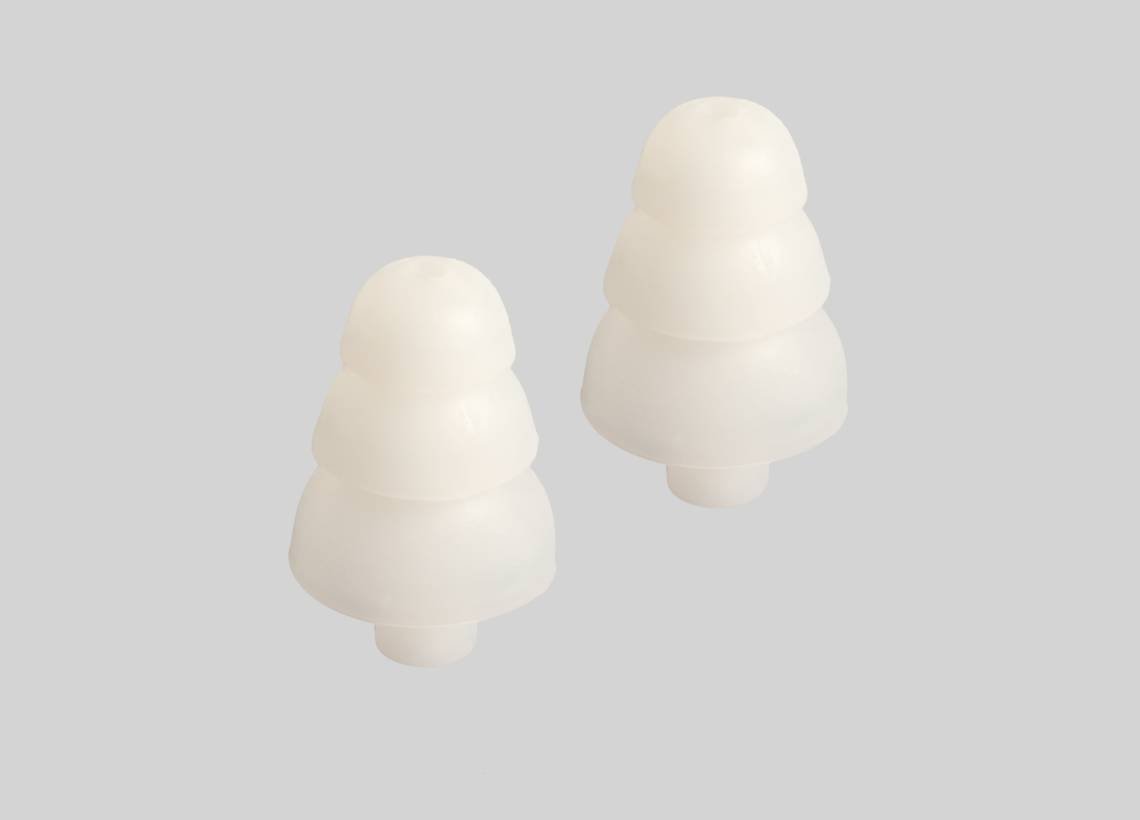 What you love about your space
What I love about my workspace is actually what is behind me while I work. I built this feature wall so that I don't have a boring white wall behind me on video calls. I'm very appreciative of having a dedicated room for my office, not only for calls but also that it is away from the front of the house so that the dogs can hang out with me and not bark at every single thing that passes by.
Tobias Eigen, Product Manager
Favorite piece of gear
It would have to be the monitor arms.
I have a dual monitor arm on the left and a laptop arm on the right. They are mounted to the grommet holes in my desk, look super clean and futuristic, and allow me to easily adjust the positioning of my laptop and two monitors any time I want to suit what I'm doing.

What you love about your space
I love pretty much everything about my setup.
My chair is so comfortable, the desk is adjustable, my cat is snoring happily next to me, and I have a lovely view out the window.
Constanza Abarca, Technical Advocate
Favorite piece of gear
I have a few tech gadgets that I like, but I have to do a special mention to my old school planner. I find that writing my daily to-do's on paper helps me to keep them organized and always on sight. And it is very satisfying to cross the items with my pen once they are done. I use this planner.
What you love about your space
Since I work remotely, and because of the pandemic, I spend a lot of time inside. I love working from home, but sometimes I feel confined and bored.
So my dad built a big table and put it in the garden, so I can sit there from time to time. It is very nice to work with the feel of the wind in your face, and the birds chirping around.
Jordan Vidrine, Designer
Favorite piece of gear
My Sony WH-1000XM3 Noise Cancelling Headphones.
I love these headphones for obvious reasons. They help me to focus in the midst of distracting noises that can take place in such a small space.
What you love about your space
While my wife and I only work from our camper only intermittently, we love that our camper allows us to work from different locations; including state parks, campgrounds, or even a farm through Harvest Hosts.
Through remote work from our camper, we are allowed to constantly be amongst new & interesting scenery. For instance, I am currently working in the woods of Chicot State Park in Louisiana, but in a couple of weeks I will get to work from a state park in Florida with natural springs to explore!
Don't get me wrong, working from such a small & confined space with your significant other can be difficult, but with the right mindset, a little planning, and patience, the pros for us definitely outweigh the cons
Mark VanLandingham, Software Engineer
Favorite piece of gear
The Ergodox EZ is my favorite piece of work gear. I used to have a lot of wrist discomfort after typing all day at work on top of playing video games at night. After switching to an ergonomic keyboard and feeling the benefits, it's impossible to switch back.
What you love about your space
I have 2 little kids and even though my space is in a dark partly finished basement, I have a quiet(ish) space to go for work. It's also big enough to fit my guitar gear so that I can take breaks and play without having to get up and move.
Kate Jones, Director of People Experience
Favorite piece of gear
I think my favorite thing is the mini fridge. It's the thing I use most after my computer. Gotta keep those La Croixs ice cold.
Natalie Tay, Software Engineering Team Lead
Favorite piece of gear
My favorite piece of non-work-related gear would be my beautiful Xbox Elite Wireless Controller. If you use controllers a lot and haven't bought it, I suggest trying it out at your nearest game shop. You will likely fall in love.
If it's work-related gear, it would have to be something music-related - probably my wired Westone Audio W20, in that orange box behind my laptop. It's a very old pair of IEMs (about more than five years at this point) which I'm surprised even lasted that long given how abusive I am. The sound is great for its price, though I'm thinking of jumping ship to Shure after this one gives up. Noise isolation is very important for me and headsets have that tendency of hurting me despite me giving them many chances not to.
What you love about your space
I love my space mostly because my cat is always here. She's blind so she sometimes walks on my feet (that precious feeling) and that's my reminder to get off my computer and take a break. It's also fun when I stand and work because it makes her think I'm walking around and so she'll be very excited and start circling around me.
Justin DiRose, Growth & Marketing Manager
Favorite piece of gear
My absolute favorite piece of gear in this space is my 38" LG ultrawide. It's a gorgeous display and I don't know why I didn't upgrade to this form factor sooner!
What you love about your space
I enjoy my space because it's a bonus room above our garage, meaning it's separated from all the noise of having three young kids at home. The only thing I'd change is more natural light. It feels a bit like a basement at times.
Joshua Rosenfeld, IT Associate
Favorite piece of gear
My Nest Hub. I have lots of smart devices in my house, and I can control them all from the little screen on my desk.
What you love about your space
I like how open my space is. The wall behind my desk is a half-wall, so it's open to the rest of the floor, making the room feel even larger. I also like my 3-monitor setup. With the ultra-widescreen monitor on the left, I essentially function with 4 "screens", allowing me to have numerous things up and running at the same time.
Rishabh Nambiar, Community Team Lead
Favorite piece of gear

Corsair K65 LUX Keyboard (because of the layout, MX Red switches, and inbuilt wrist rest)
Kali LP-6 Speakers + Ableton Push 2
What you love about your space
Mega-desk! Enough space for all my work + gaming + music gear + bamboo plant
optional natural light
Regis Hanol, Software Engineering Team Lead
Favorite pieces of gear
The desk is a comfortable 2m wide and 80cm deep but the most important feature is the automated stand/sit mode. I switch to standing mode for a couple of hours every day and it's been a blessing on my back.
I used to have three 27" Dell monitors but I had lots of neck pain at the end of the day. When I switched to one 38" LG UltraWide monitor I felt much better.
My clicky device of the month is a MagicForce 68 and my pointing device is an MX Master 3.
When I'm seating, my *ss and back are supported by an old but trusty Aeron Chair.
I listen to a lot of music while I work, either on the Sennheiser HD 560s or via the AudioEngine A5+ powered by the AudioEngine D1 DAC.
Ginevra Brown, Senior Accounting Specialist
Favorite pieces of gear

The desk is an EFFYDESK which is sit/stand (a feature highly recommended by my PT) (59"x29")
My mouse is an M720 Triathlon and the keyboard is G910 Orion Spark.
Nothing too exciting, but enough to keep my little accountant heart happy.
Finally, my headphones are HS60 Pro Surround, great for work calls, listening to music, and tuning out the kids.
---
This is a companion discussion topic for the original entry at
https://blog.discourse.org/2022/03/the-home-office-desks-of-discourse/